Compete at Robot Ruckus 2022!
Registration is Now Open! - See Below for Details...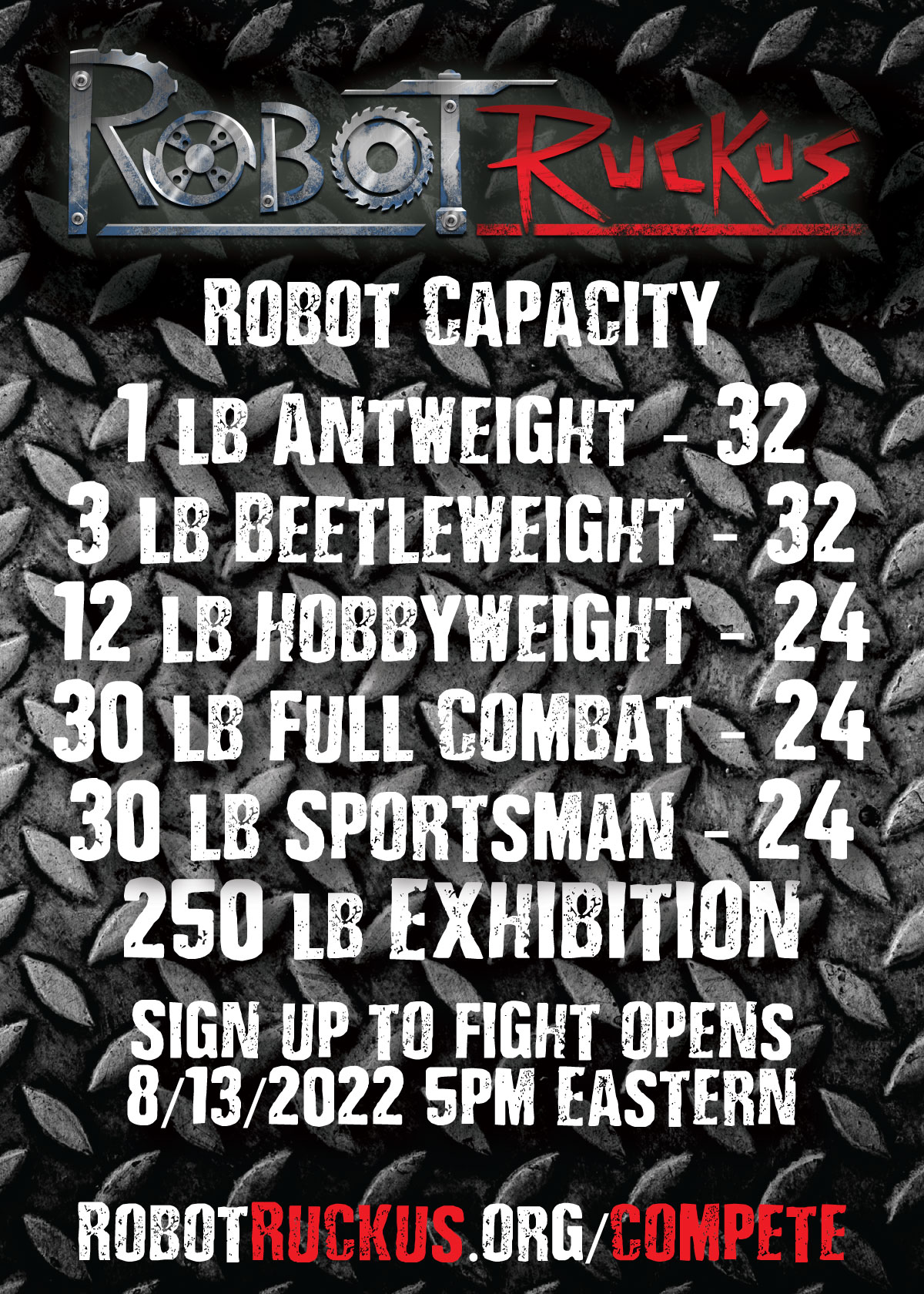 Check list
Read the Robot Construction rules.
Read the Match Procedures & Event Logistics document.
Register on buildersdb for Robot Ruckus 2022!
Register on the Maker Faire Orlando website. This will provide you and your team credentials to the event.

Important Note

When registering for Maker Faire Orlando, the forms are designed for maker exhibits, and so the terminology needs a bit of translation. The "Maker" is the team, and the "Exhibit" is the robot or robots. Each "maker" will get one pass to the event, and after you are approved, you will be able to add "helpers" for the rest of your team to get everyone passes. You do not need to register each member of your team as a maker, and if you have more than one robot, you are welcome to do all of them in one exhibit - or break them into separate exhibits, your choice.

If you have questions on this registration, you can email us at contact@robotruckus.org OR email the broader Maker Faire Orlando team at makers@makerfaireorlando.com

We know that registering on both buildersdb AND the Maker Faire Orlando site is a lot of process, and we appreciate you helping us make it happen.

Volunteer to help build the arena on Thursday & Friday, or to tear down the arena on Monday. Email us at contact@robotruckus.org if you can help!
Like, Share & Post!&nbsp&nbspFacebook Page&nbsp&nbspFacebook Event
Read the rules again.
Robot Ruckus returns to Maker Faire Orlando 2022 on November 5th & 6th!
Insect battles will be run in an 8'x8' arena, which has a non-ferrous floor with a pit in one corner. Bigger bots will be run in an 16'x32' arena which has a steel floor. Everything up to 12lbs will be full contact, and the 30s and 250s will be "sportsman" style. Insect weightclasses will be double-elimination, and 12s, 30s, will be a pools fight format, 250s will be an exhibition class only. Relevant links: Match Procedures and Construction Specs
Robot Ruckus registration link - https://www.buildersdb.com/events/1131
Entry fees are $20 for insects and 12lb, and $30 for 30lb. Due to time and space constraints, a team may only enter robots into either the insect weightclasses or the bigger weightclasses. You may not compete in both arenas. Weekend Maker Faire Orlando passes will be given to each team member. We will email you to complete the Maker Faire Orlando registration which will be required to get event credentials. This step MUST be done to receive passes for Maker Faire Orlando! The process is being simplified for 2022, and we will email details when they are available.
Robot Ruckus will be run in conjunction with Maker Faire Orlando being held at the Central Florida Fairgrounds located at:
4603 West Colonial Drive
Orlando, Florida 32808
centralfloridafair.com
Check in will be on Friday November 4th, with limited check-in Saturday morning. Volunteers to help setup/tear-down the arenas on the days before are greatly appreciated, as are volunteers to help keep the event running! Whether it be judging, robot wrangling, or crowd control, etc, any help that can be given is fantastic.
Maker Faire is a family-friendly event with lots to do for all ages. Invite family and friends to watch you battle and enjoy all the Maker Faire has to offer. Learn More!