Compete at Robot Ruckus 2021!
We are not yet accepting registrations for Robot Ruckus 2021.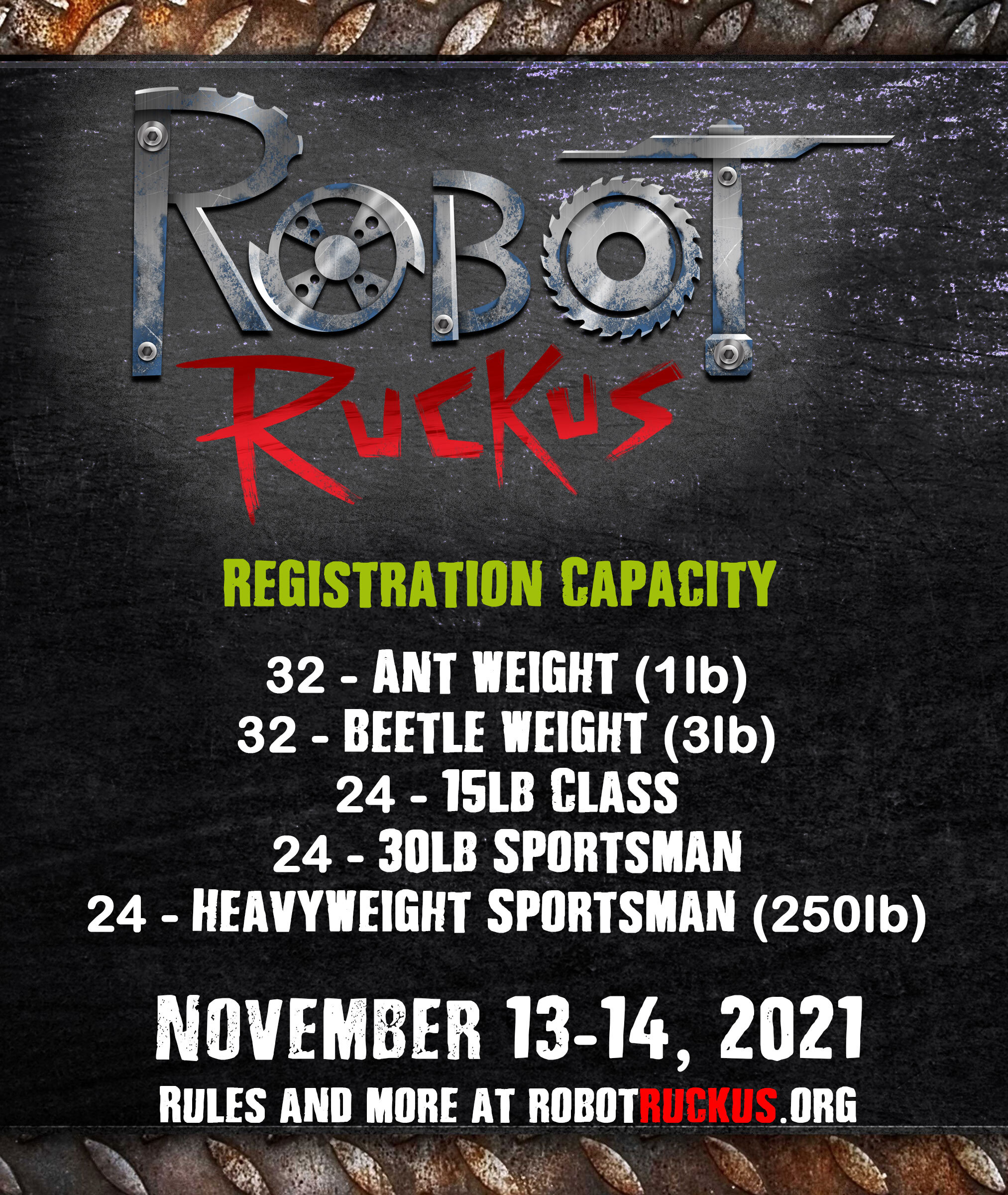 Robot Ruckus returns to Maker Faire Orlando 2021 on November 13th & 14th!
Insect battles will be run in an 8x8 arena, which has a non-ferrous floor with a pit in one corner. Bigger bots will be run in an 16x32 arena which has a steel floor. Everything up to 15lbs will be full contact, and the 30s and 250s will be "sportsman" style. Insect weightclasses will be double-competition, and 15s, 30s, and 250s will be a pools fight format. Relevant links: Match Procedures and Construction Specs
Entry fees are $20 for insects and 15lb, $30 for 30lb, and $50 for 250 Sportsman. Due to time and space constraints, a team may only enter robots into either the insect weightclasses or the bigger weightclasses. You may not be competing in both arenas. Weekend Maker Faire passes will be given to each team member. This is done via the "Call for Makers!" on the Orlando Maker Faire website. This step MUST be done to receive passes for MFO! Only one exhibit is needed per team, not one per robot. On that exhibit page, feel free to post pictures of all the bots you're bringing!
Robot Ruckus will be run in conjunction with Maker Faire Orlando being held at the Central Florida Fairgrounds located at:
4603 West Colonial Drive
Orlando, Florida 32808
centralfloridafair.com
Check in will be on Friday November 12th, with limited check-in Saturday morning. Volunteers to help setup/tear-down the arenas on the days before are greatly appreciated, as are volunteers to help keep the event running! Whether it be judging, robot wrangling, or crowd control, etc, any help that can be given is fantastic.
Questions can be asked at contact@robotruckus.org
Maker Faire is a family-friendly event with lots to do for all ages. Invite family and friends to watch you battle and enjoy all the Maker Faire has to offer. Learn More!